Enrolment details of Digital Grades and Diploma exam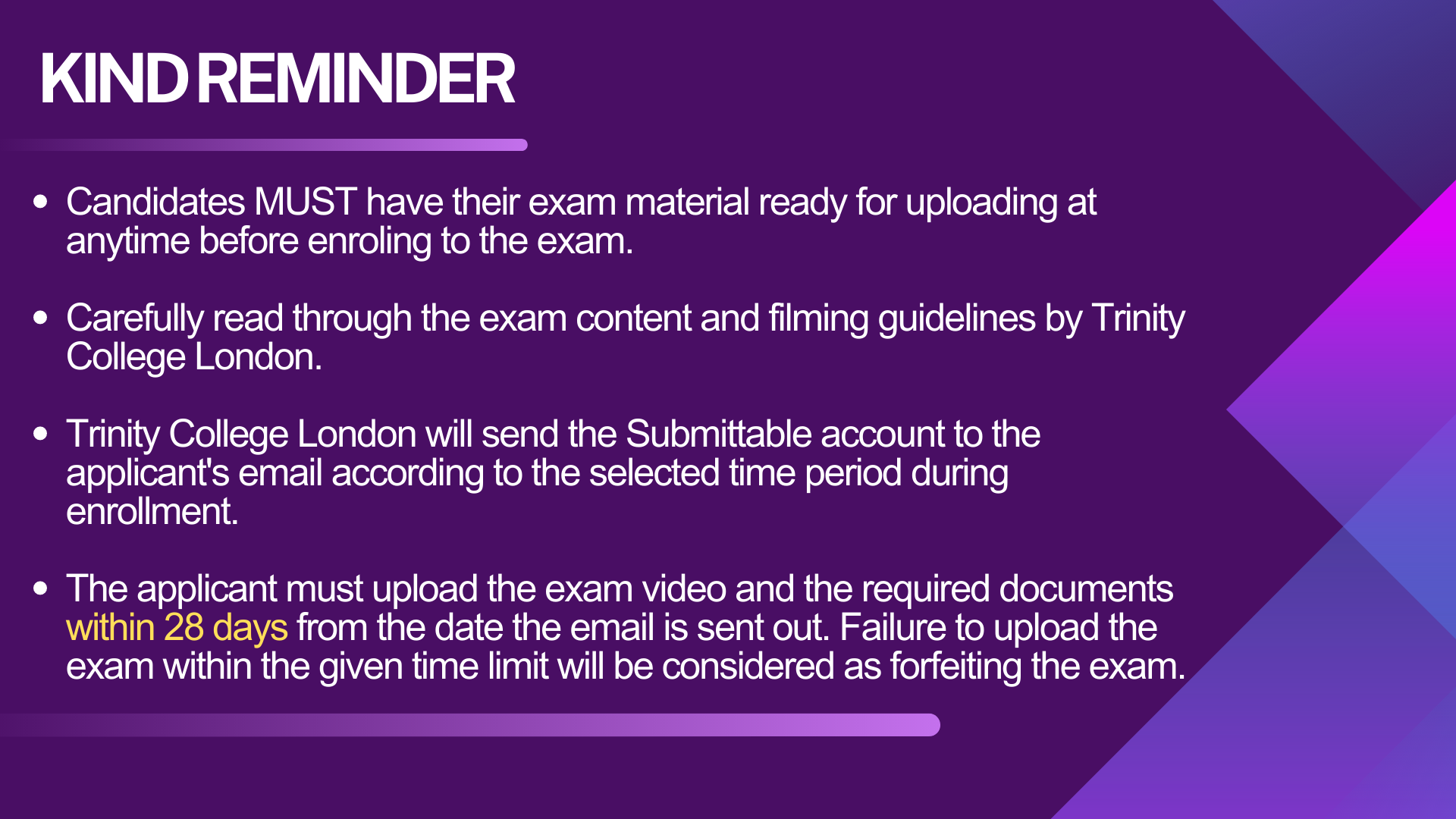 Click here to view Official Exam Recording Venues
2023 Trinity Hong Kong Digital Grades and Diplomas examination enrolment
Please prepare below before enrolment
i) Computer with Google chrome browser to fill in the enrolment form
ii) Mobile phone with bank application & FPS to scan payment QR code

General Enrolment Information
Trinity (Hong Kong) Music Center (hereinafter referred to as THKMC) reserves the right to change the deadline for enrolment

Online enrolment payment is made by FPS. It is recommended that candidates use computers with GOOGLE CHROME browser to enrol

Make sure that you have a mobile phone with bank application & FPS before exam enrolment

Applicants/ candidates who haven't got the bank application & FPS in their mobile phone may  to see more information. Online enrolment payment can only be paid by FPS

Please mark down the FPS bill number in case for further follow up

Applicant/ candidate

 is responsible for verifying that the examination fees are correct at the time of payment. If any changes are required, THKMC has the right to refuse or impose additional administrative fees on the candidate/ applicant. THKMC will not refund the overpaid amount

The examination fee does not include the rental of recording venues and equipment

The name of the candidate on the form must match with the candidate attending the exam and cannot be replaced/substituted by anyone else under any circumstances

Applicant/ candidate

must provide:
– A valid Hong Kong ID card/passport containing the candidate's photo and full name in English (for verification purposes only)


– Please upload the file as a computer scan or a photo file. The file format is limited to JPEG, PDF, PNG, GIF, BMP, TIFF and no more than 5 MB


– Music Performance Diploma candidate who chooses a piece outside the repertoire list must attach the "Approval Letter" issued by Trinity College London during exam enrollment (for verification purposes only) 

All submitted enrolments will go through the process of opening a Submittable account and the exam must be completed within the specified exam period

After successful enrolment, candidate/applicant is not allowed to make any changes with the content on the enrolment form

Examinations cannot be converted to face-to-face examinations format, postponed, cancelled or refunded

Trinity College London will send the Submittable account to the applicant's email according to the selected time period during enrollment. The account will be sent via email. From the date of the email, the applicant must upload the exam video and the required documents within 28 days. Failure to upload the exam within the given time limit will result in the exam being forfeited. If an applicant has not received the email within the selected time period for receiving the Submittable account, please contact the center as soon as possible by email (info@trinitycollege.com.hk).

Enrollment and payment procedures
Fill in the online enrolment form

Preview and confirm the completed enrolment form content and exam fee

Complete payment of the exam fee by FPS

Applicant/ candidate

will receive a confirmation email after the payment is completed. If the

applicant/ candidate

has not received the confirmation email within 3 working days after completed payment, please contact THKMC (info@trinitycollege.com.hk) immediately

Overpaid exam fees will not be refunded or transferred

In case of any disputes, THKMC reserves the right of final decision

Certificates
Candidates who have achieved a pass or above result in their exam will receive an exam certificate printed with the exam subject and grade

Certificates will be sent out to the address filled in by the

applicant/ candidate 

in 2-3 months by mail after the candidate received the result report

Once the certificate has been sent, THKMC will send out a reminder email to the candidate/ applicant

If there is any change with the address,

applicants/ candidates

are responsible for contacting and notify THKMC by email (info@trinitycollege.com.hk)

THKMC is not responsible for any postal risk (including delay, damage, loss or theft damage etc.)

If a replacement certificate is required due to incorrect information filled in by the

applicant/ candidate

, the

applicant/ candidate

must pay an additional fee to apply for a replacement certificate. For replacement certificates, please refer to: https://www.trinitycollege.com/site/?id=3830

Exam timeline