Honorable Member & Music Consultants & Music Ambassadors
TRINITY COLLEGE LONDON HONORABLE MEMBER




Professor Li Ming-qian

g 

(Music Consultant in Piano)
Former Vice-President and Professor of Piano of the Shanghai Conservatory (1984-89)

Prize-winner of George Enesu International Piano Competition (Romania)

Jury member of major International Piano Competitions including the Choping International Piano Competition (Warsaw)

Life-member of the American Liszt Society

Lecturing at leading Conservatories in Europe, Australia, USA, China, Taiwan and Hong Kong

Made recordings for China Records, Electreord of Romani, Supraphon of the Czech Republic and Alpha Omega (Hong Kong)



TRINITY HONG KONG MUSIC CONSULTANTS

Professor Wong, Eleanor (Music Consultant in Piano)
Receiver of the Medal of Honour from the Hong Kong SAR Government

Chairperson of the Piano Teachers' Association of Hong Kong

Co-Director of the Hong Kong Summer Music

Artist-in-Residence and Senior Lecturer at the Hong Kong Academy for Performing Arts

An Honorary Professor at Tian Jin Music Conservatory

Steinway Artis

t



Dr. Lo, Karl (Music Consultant in Piano)
Faculty member at the Cleveland Institute of Music

Lecturer of the Hong Kong Academy for Performing Arts and the Hong Kong Baptist University

Given recitals across the USA, Canada, Venezuela, and China, including complete cycles of Beethoven piano, violin, and cello sonatas

Released a debut 2-CD recording, and received critical acclaim by the American Record Guide



Mr. Chan Siu Fun (Music Consultant in Piano)
Vice-Chairman of the Hong Kong Music Tutor Union

Chief in Education Quality of Parsons Music Academy

Former instructor at the Baptist University of Hong Kong and the Chinese University of Hong Kong



Mr. Ma Cong, Andrew (Music Consultant in Piano)
Lecturer of the Hong Kong Baptist University

Course Consultant at the School of Continuing Studies, the Chinese University of Hong Kong

Music Director in Keyboard for Parsons Music Academy



Ms. Jacqueline Leung (Music Consultant in Piano)
Piano Specialist of Trinity College London

Laureate of the Antena 2 prize (Portugal)

Associate of the Royal Academy of Music (ARAM)

Senior Lecturer of Music (Piano) at United International College in Zhuhai, China

Chairperson of the Royal Academy of Music HK Alumni Association



Professor Ma Michael (Music Consultant in Violin)
Head of Strings at the Hong Kong Academy for Performing Arts

Former concertmaster of the Hong Kong Philharmonic Orchestra

Professor of Violin at the University of Oklahoma



Dr. Sak Ka Fong Gilbert (Music Consultant in Violin)
Instructor at the Hong Kong Academy for Performing Arts, the Hong Kong Baptist University and the Education University of Hong Kong

Music Director and conductor for the Hong Kong Civic Youth Orchestra

Former Principal 2nd Violin for the City Chamber Orchestra of Hong Kong



Mr. Andrew Ling (

Music

Consultant in Viola)
Principal Violist of the Hong Kong Philharmonic Orchestra

Holds teaching positions at Hong Kong Baptist University and The Hong Kong Academy for Performing Arts

Handpicked to conduct the HK Phil in rehearsal for Christoph Eschenbach and the late Lorin Maazel



Mr. Chau Chin Tung (Music Consultant in Percussion)
Principal Percussion of the Hong Kong Sinfonietta

RTHK Radio 4 Artist-in-Residence

Tutor at Music Office, Hong Kong Academy for Performing Arts and the University of Hong Kong



Mr. Choy Lap Tak (Music Consultant in Percussion & Drum Kit)
Percussion tutor at the Hong Kong Academy for Performing Arts

Endorser of Zildjian Cymbal

Endorser of Elite Mallets



Mr. Fung Kai Man Kenneth (Music Consultant in Brass)
Former President of Asia Pacific Band Directors

Instructor at the Hong Kong Academy for Performing Arts and Hong Kong Music Office

Overseas Consultant and tutor for the Macau Youth Symphony Orchestra and Macao Band Directors Association



Mr. Choy Kwok Tin Martin (Music Consultant in Woodwind)
Honorary Artist-in-Residence in the Education University of Hong Kong

Instructor at the Hong Kong Academy for Performing Arts, Chinese University of Hong Kong, Hong Kong Baptist University and Hong Kong Music Institute

Band director of Alliance Primary School Kowloon Tong and Pui Ching Middle School



Dr. Ho Man Yiu (

Music Consultant 

in Woodwind)
Doctor of Education (EdD Bristol)

FTCL in Music Education

Conductor of Hong Kong Southern District Orchestra Wind Band since 2004



Mr. Chow Kwok Wah, Terry (Music Consultant in Rock & Pop)
Level 6 Licentiate Diploma in Music Performance in Guitar

18 Years Gigs Performance & Planning Experiences

Pop & Rock Music Consultant in different Local Music Centers

TRINITY HONG KONG MUSIC AMBASSADORS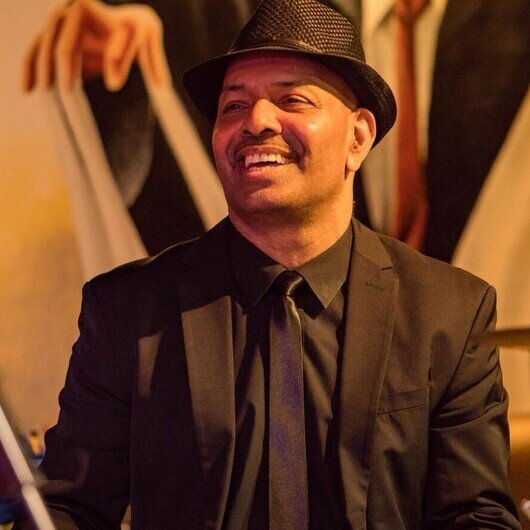 Mr. Anthony Fernandes (Music Ambassador in Rock & Pop Drums)
Performed with Jazz greats such as: Bob Mintzer, James Morisson, Eric Marienthal, James Moody, Grammy Award Winner Michel Le Grande to name a few

Zildjian Cymbals and Yamaha Drums Endorser

Played for more than 1,500 live concerts with more than 200 Canto and Mando Pop Artists from all over Asia since 1994 which also includes the Longest Tour


with Jacky Cheung from December 2010 to May 2012 performing a total of 146 concerts



Ms. Anna Fan (Music Ambassador in 

Percussion and 

Rock & Pop Drums)
Jazz Performance Diploma (Drum Set), Berklee College of Music

BA(Hons) in Music (Percussion Performance & Pedagogy), Hong Kong Baptist University

Host of Indie Music on RTHK31

Currently the Conductor, Arranger and Percussion Instructor of various schools (e.g. Pooi To Middle School, Pui Ching Primary School etc.)

Worked with artists and groups such as the Hong Kong Sinfonietta, Hong Kong Arts Festival, Jacky Cheung, Chet Lam, Eman Lam, Lowell Lo,
Eason Chan, Sammi Cheng, Hins Cheung, C ALLSTAR, Yoyo Sham etc.



Mr. Lau Chi Ho (Music Ambassador in 

Rock & Pop 

Drums)
Bachelor of Music (Hons) in Composition in Hong Kong Academy for Performing Arts

High Scorer of Rock & Pop Drums Grade 8 (Distinction)

Consultant of Hong Kong International Drummer Festival

Artists at Soundwave Master

Endorser of Vic Firth Drum Sticks and Evans Drumhead



Mr. Siu Chi Ming (Music Ambassador in Rock & Pop Drums)
Trinity Drum kit Grade 8 (Merit)

Rock & Pop Drums Grade 8 (Distinction)

Best Drummer of Yamaha Asian Beats 2009 & 2011 and Warehouse Youth Band Competition 2011

Youtube Drums Channel with over 20,000 subscribers and 7.7 millions view rate

Session drummer for various Hong Kong singers



Mr. Vin Wee Alvin (Music Ambassador in

 

Rock & Pop 

Drums)
Hong Kong television music programme, "At Cantopop 50" drummer

Was the Resident drummer/ Music Director for Galaxy Entertainment Group

Concert drummer or varies Asian artists, e.g. Hacken Lee, Eric Moo, William So, Raymond Lam, Richie Ren, Huang Pin Yuan etc.

Mr. 

Sean 

Wai

 (Music Ambassador in

 

Rock & Pop 

Guitar)
Professional guitarist, music producer, concert music director and guitar tutor

Working actively with Asian artists such as Paul Wong, Hins Cheung, Joey Yung, Fiona Sit, Leo Ku, Hacken Lee since 2000

Music Director of Hacken Lee's concert , Miss Asia Hong Kong 2020 and the Latin dance world championships China (Chu Hai)2017 and 2019



Ms. Pang Su Fern (Music Ambassador in Piano)
Jazz music and Electric Organ Professions with Yamaha in Singapore

Electric Organ Profession in Japan

Classical piano profession in Melbourne Monash University



Mr. Steven Law (Music Ambassador in Classical Guitar)
LTCL in Classical Guitar (Distinction)

Artist of Lakewood Guitar, Cordoba Guitar & Hughes & Kettner amplifier

Popular classical guitarist on Facebook & Instagram