Performance Diplomas
Trinity's performance diplomas provide a pathway to professional musicianship, focusing exclusively on the planning and performance of a recital.
You can build a programme which you are confident in and that reflects you as a musician.
Choose your pieces from our newly expanded and regularly updated repertoire lists,
which include trusted and popular choices made by fellow teachers and candidates over the years, or submit your own-choice pieces (or a mixture of both).

Performance Diplomas are available at three levels:
ATCL 

: equivalent in standard to the first year recital of an undergraduate degree
Entry Requirement: No prerequisites



LTCL 

: equivalent in standard to the final year recital of an undergraduate degree
Entry Requirement: No prerequisites



FTCL 

: equivalent in standard to a postgraduate course recital at a conservatoire or university
Entry Requirement: LTCL in the same instrument. Candidates who have passed LTCL should indicate this in the appropriate place on the entry form.
Candidates without LTCL may apply for approval at music@trinitycollege.com with an equivalent qualification, or offer prior learning at a similar level to LTCL.

The 2019 Music Performance Diploma Syllabus
Extensive repertoire with over 3,500 pieces on lists exclusively available online and updated at regular intervals with newly approved pieces

Performance focus; 96% of the marks are awarded for the recital for ATCL and LTCL, with detailed programme notes only required for FTCL diplomas.

Programme approvals portal means candidates receive quick, dedicated feedback on their own-choice programme from our expert panel

Online digital resources provide teaching and learning support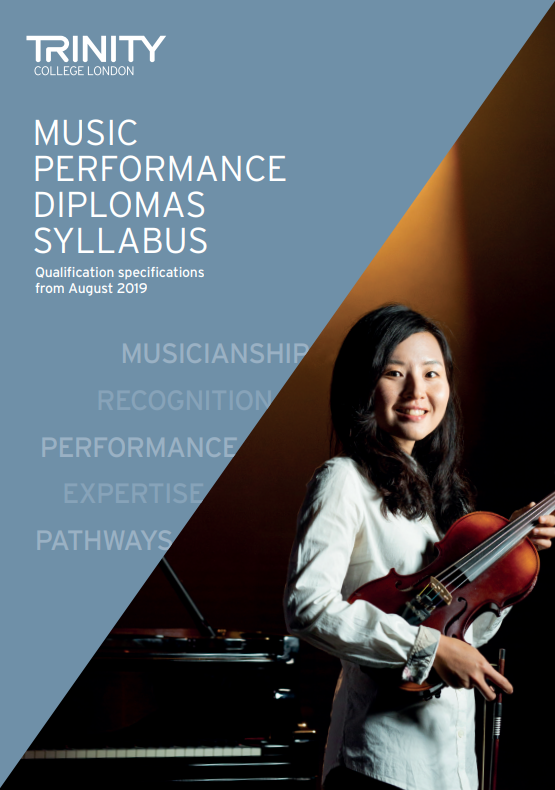 Click HERE to download
Recital (96 marks)
Compile and perform a programme of pieces, chosen from published repertoire lists, own-choice repertoire, or a combination of listed and own-choice repertoire.

Performance duration
ATCL : 32 – 38 minutes
LTCL : 37 – 43 minutes
FTCL : 42 – 48 minutes
Discover our repertoire lists:


Programme & Planning (4 marks)
Plan a balanced programme that includes contrasting styles, and provide a written programme.
————————————————
Marking of ATCL & LTCL :
| | |
| --- | --- |
| Distinction | 80-100 |
| Pass | 60-79 |
| Below Pass 1 | 45-59 |
| Below Pass 1 | 0-44 |
Marking of FTCL :

For more details:
https://www.trinitycollege.com/qualifications/music/diplomas/performance