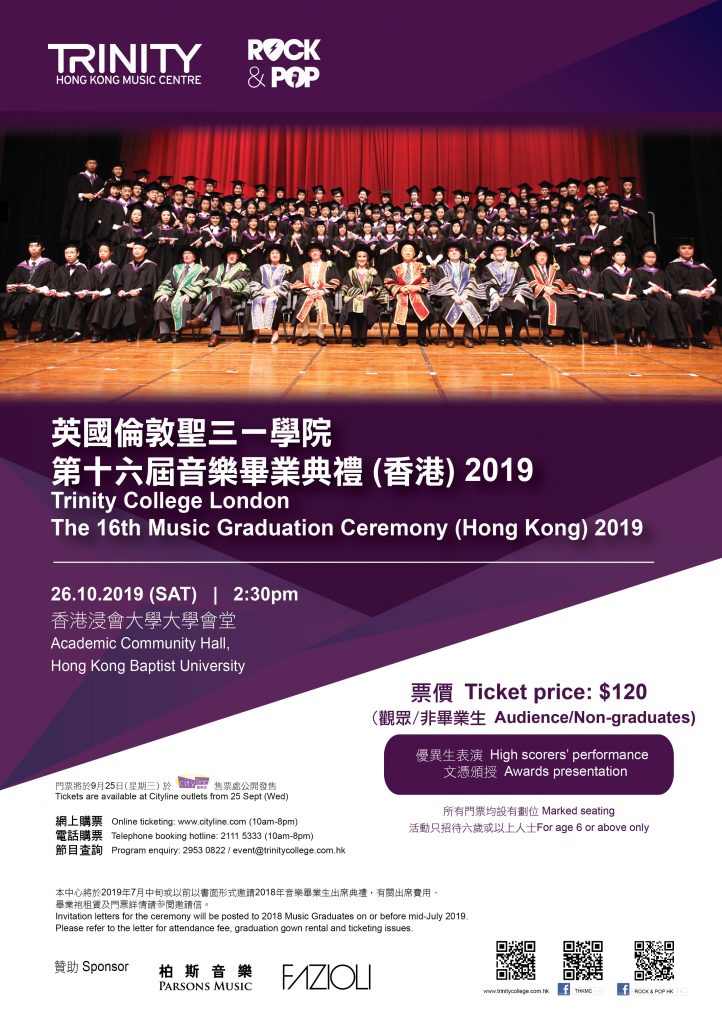 第十六屆音樂畢業典禮(香港)2019
[2018年音樂等級、證書、文憑及Rock & Pop畢業生適用]
優異生表演 | 文憑頒授儀式
本中心將於2019年7月中旬或以前以書面形式邀請2018年音樂畢業生出席畢業典禮,有關出席費用、畢業袍租賃及門票詳情請参閱邀請信。
於7月中旬仍未收到邀請函的畢業生請盡快與本中心聯絡。

觀眾/非畢業生門票 ($120) 將於9月25日起於Cityline購票通售票處公開發售.
門票設有劃位
活動只招待6歲或以上人仕
節目查詢: 2953 0822 | event@trinitycollege.com.hk
The 16th Music Graduation Ceremony (Hong Kong) 2019
[For 2018 Graded, Certificate, Diploma and Rock & Pop Music Graduates]
High Scorers Performance| Awards Presentation
Invitation letters for the ceremony will be posted to all 2018 Music Graduates on or before mid-July 2019.
Please refer to the letter for attendance fee, graduation gown rental and ticketing issues.
Please contact us asap should you do not receive any invitations after mid-July.
Audience / Non-graduates tickets are available at $120 at Cityline outlets from 25 Sep.
Marked seating
For age 6 or above only
Program enquiry: 2953 0822 | event@trinitycollege.com.hk